CVC Spring 2021
Spring 2021 Charlotte Venture Challenge
Watch the event in its entirety, or check out the panels.
"As North Carolina's Urban Research University we are proud to support the rapidly growing innovation economy in Charlotte by promoting research designed to identify and solve problems, mobilize resources, and improve the overall quality of our lives," Dr. Rick Tankersley, Vice Chancellor for Research & Development, stated as he kicked off the annual 20th Charlotte Venture Challenge. Through the Covid 19 pandemic, the Charlotte campus has made large contributions to helping the community and getting our research back up and running. Over the last 5 years, the university has doubled its research expenditures due to factors such as its entrepreneurial thinking. Dr. Tankersley concluded his comments with, [UNC Charlotte is] "one of the top institutions in the country for its innovation productivity and technology commercialization" which allowed the following presenters today to make big discoveries.
Student Entrepreneur Showcase: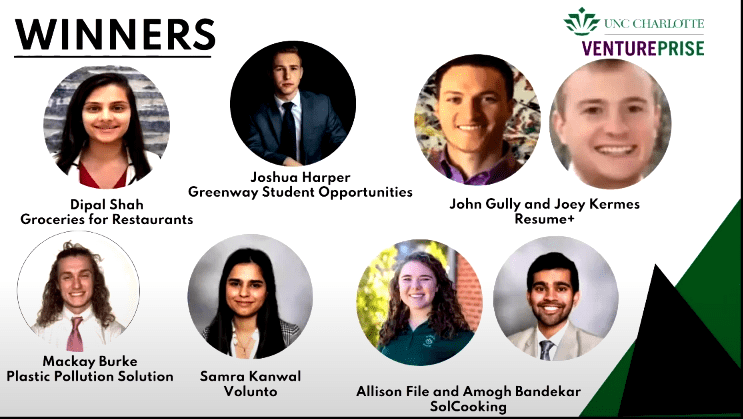 The student entrepreneur showcase marked the finale to an incredible journey of UNC Charlotte students from over six different colleges; all creating their own impactful entrepreneurial ideas in which they can continue to build upon for the future. 19 student teams competed in 49er Impact through March and April , for a chance to win $1,500 and a summer mentorship. The 49er impact hosted a panel & judges of UNC Charlotte alumni, faculty and Ventureprise program participants, all that have made an impact in the Charlotte community. The Pivot Your Idea judges included Miguel Avila (Venture for America Fellow), Chad Stachowicz (CEO and Founder, Cloverhound), Abi Olukeye ( Founder, Smart Girls HQ),Adonis Abdullah (Founder, Hot Routes Analytics). The Chance for Change judges were Dr. Kim Buch (Co-Founder, Jamil Niner Student Pantry), Ashley Rankin (UNC Charlotte Graduate),Lindsey Braciale (Founder and CEO, Advocations),Adrienne Threatt (Executive Director, Hope Vibes).
This event offered students the opportunity to make their own innovative impact through a social or business idea. Ideas ranged from from renewable energy sources to exotic decor and solar cookers to symbiotic pods for homeless housing. 2019 and 2020 Student Competitition Winner Adonis Abdullah sat in on the panel and gave some advice to fellow student entrepreneurs, "Don't wait! Use "youtube university" or other resources if you don't know how to do something, figure it out, take action and start your journey."
The 49er impact Pitch finalists were given a couple weeks to prep for Charlotte Venture Challenge & Innovation Virtual Summit. During this time students attended entrepreneurial workshops that helped each team define their problem-solution-fit and pitch to a large audience. "Ventureprise gave me the opportunity to share my idea with the rest of the community and to spark action in my business. The competition also allows me to see what my peers were building and how I could help," says 49er impact awardee and J. Chris Murphy recipient, Joshua Harper, a finance major in the Belk College of Business at UNC Charlotte.
Charlotte Venture Challenge & Innovation Virtual Summit awarded over $10,000 in cash and prizes. The pitches were scored on measurable impact, opportunity, market competition and presentation. The top prize of $1,500 and a spot in the 49er Foundry Summer Mentorship Program were awarded to our six winners. This will provide funding for each student to continue to work towards their idea, taking it to the next level. The awardees include, Dipal Shah (Groceries for Restaurants), Joshua Harper , also J. Chris Murphy awardee, (Greenway Student Opportunities), John Gully and Joey Kermes (Resume +) , Mackay Burke ( Plastic Pollution Solution), Samra Kanwal (Volunto), Allison File and Amogh Bandekar (SolCooking).
Tech Transfer Panel:
The Tech Transfer Panel was kicked off by Brad Fach, Assistant Director of the Office of Research & Development, diving into how technology transfer works when partnering with the university and how this process can be broken down into two main parts. The benefits of working with the University include Charlotte's human capital of 30,000 students, which is the 2nd largest in the state of North Carolina. Along with the physical capital such as office space, there are diverse types of research labs. The first process can be defined as pre-funding, which details the sponsored contracts entailing IP ownership, research costs, and academic freedom and publications. Fach stated, "Our primary mission is to teach, educate, graduate students and publish. Students need to be able to publish new findings which is an advantage of working with the university". The second type of process being post funding, which details licensed contracts and the financial payments and legal issues. Fach added, "The University has a lot of flexibility with money, which is the easiest part of the licensing agreement. There are 40-50 new technologies each year and over 100 different technologies available at any given time at UNC Charlotte." These are some of the endless benefits of partnering with the university.
Along with partnering with the university, there is also some tremendous work done by Charlotte's faculty. Dr. Susan Trammell, Department of Physics and Optical Science, discussed her research, Enhanced Thermal Imaging. Through her presentation she stated that it is currently difficult to see different tissues with thermal images but through her and her fellow students research, they have made this easier to identify. Trammell stated, "our system is compact and portable, provides real time imaging, and provides resolution better than ultrasound at a comparable price point." This has the capability of making big changes in the medical field. Dr. Jordan Poler then presented his research, detailing his findings on removing nanomaterial particles from drinking water. His research focused on the purification of water and how his team was able to have a "95-99% removal rate that was consistent time after time of particles that are not good for you at all". He concluded by stating how his results were not only consistent, but this water can also be regenerated and reused.
NSF I-Corps:
UNC Charlotte has sent over 15 teams to the National I-Corps Program, making tremendous strides in research commercialization. This panel consisted of three teams, all from the College of Arts + Architecture, who completed over 100 customer interviews, throughout this highly competitive six week program. Dr. Chengde Wu kicked off the panel by introducing his Air Depolluting System, which can be applied indoor and outdoor as the goal is to remove the harmful pollutants from the air and convert to clean air particles.
The next presenter was Dr. Kyoung Hee Kim, Associate Professor of Architecture and Director of Integrated Design Research Lab. Dr. Kim has been conducting research since 2011 to create microalgae windows that improve air quality and building energy efficiency.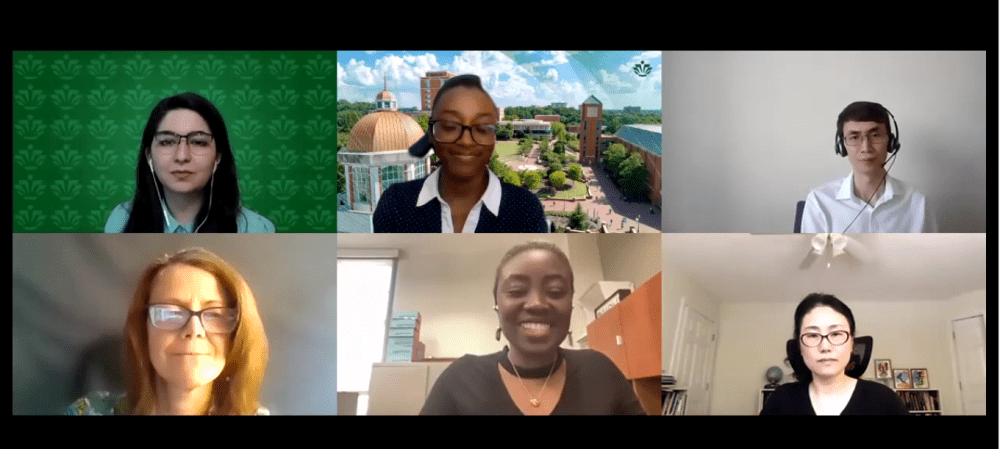 Rounding out the panel, Graduate Research Assistant Rosh Ashrafi presented her work on a real-time Non-intrusive AI-powered Health Monitoring System technology. They have conducted 120 interviews which allowed them to define target markets such as family members, seniors, and senior care facilities.
Ventureprise launch Summer Accelerator Showcase, Powered by NC IDEA:
The Ventureprise Launch 2.0 Summer Accelerator awardees participated in a panel hosted by Ventureprise Executive Director Devin Collins. The main goal of the Ventureprise Launch 2.0 Summer Accelerator program is to provide alumni the opportunity to participate in a summer labs program focused on business model development, pilot testing and data collection.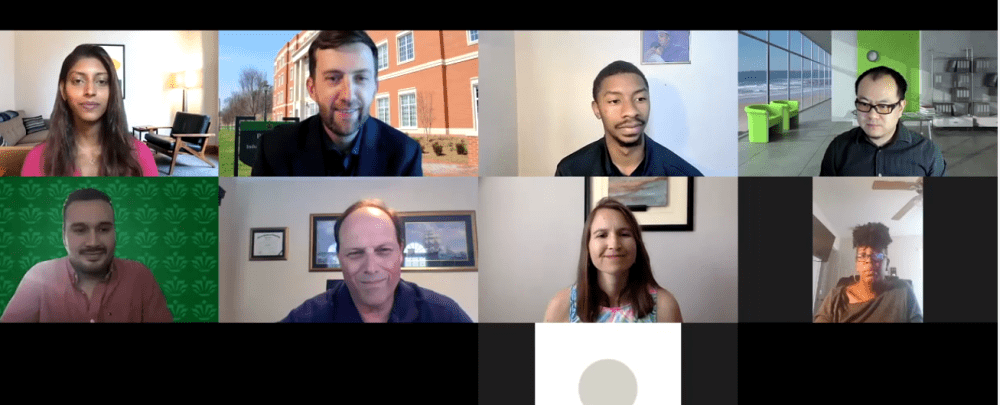 These Ventureprise Launch 2.0 participants were awarded a $2,000 microgrant to explore channels, revenue streams, key resources, key activities & partnerships, cost structure and pilot studies. Ash Malepati, founder of Bitesavvy, mentioned in the 2.0 Q&A panel, that one of her goals "Is to launch by the end of summer.. . refine my business model and use any help forming these connections and partnerships."
Ventureprise Launch 2.0 summer program participants include, Penny Campbell (Seniors In Transition),Ash Malepati (Bitesavvy), Adonis Abdullah (Hot Route Analytics), Dr. Victor Chen (EMIE),Kim Harclerode (No Mess SPF),Pedro Regaldo and Dr. Tao Han (Talaria Technologies).
More on our 2021 Panelists here.
---
CVC History
The competition has a history of producing and showcasing some of the Southeast's most successful early-stage companies. In the last three years, over 300 start-up companies entered the competition for the opportunity to present to potential investors, first customers, and the chance to win over $150,000 in cash prizes. During the final rounds of competition, the finalists present to Angel and Venture Capital Investors and large potential customers (Fortune 500 Corps).
Read more about our 2020 Showcase event here
Disclaimer: Due to the global pandemic our usual Charlotte Venture Challenge event had to be scaled down to focus on students and 49er Foundry members
Read more about our 2019 event here
Read more about our 2018 event here
Contact:

Devin Collins, Ventureprise