CVC 2018
2018's Charlotte Venture Challenge Spotlights UNC Charlotte Research, Charlotte Entrepreneurs and Startup Fundamentals
17th annual event awards over $20,000 to Ventureprise Launch Participants and UNC Charlotte Students
The Charlotte Venture Challenge was held May 1st at the UNC Charlotte Center City building featuring 13 innovative startup finalists. These emerging companies were introduced to over 150 attendees including investors, corporate executives and members of the Charlotte metro business community.
With a focus on customer discovery and startup fundamentals, a new, interactive event format was introduced this year. The Charlotte Venture Challenge featured finalist panel discussions and three categories; Student, University Research and Innovation, and Community Entrepreneurship and over $20,000 was awarded to category winners.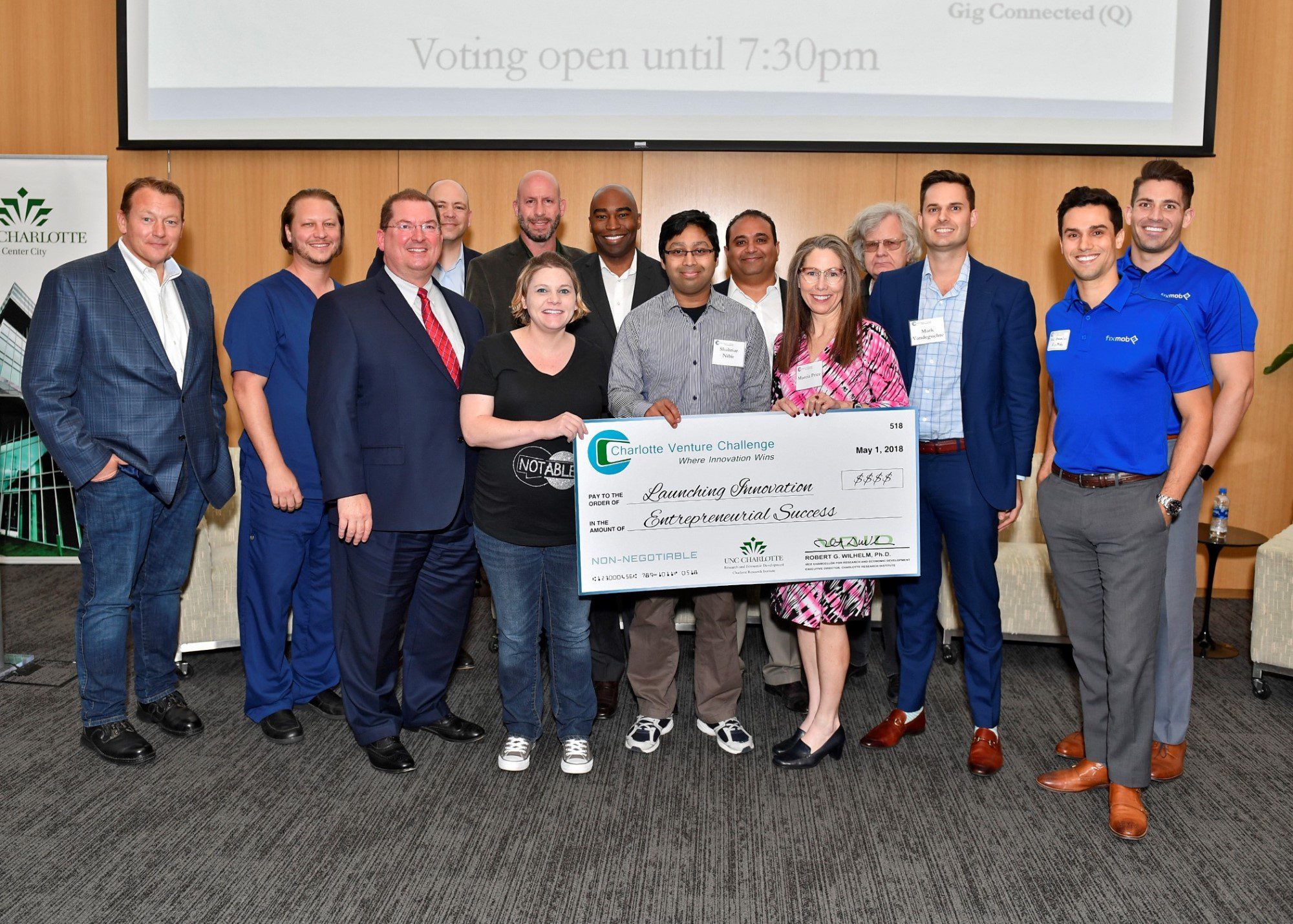 To highlight UNC Charlotte innovation, three UNC Charlotte student finalists competed for the 49er iChallenge. Each team had three minutes to pitch, with two minutes of Q&A from a panel of judges. The 49er iChallenge finalists: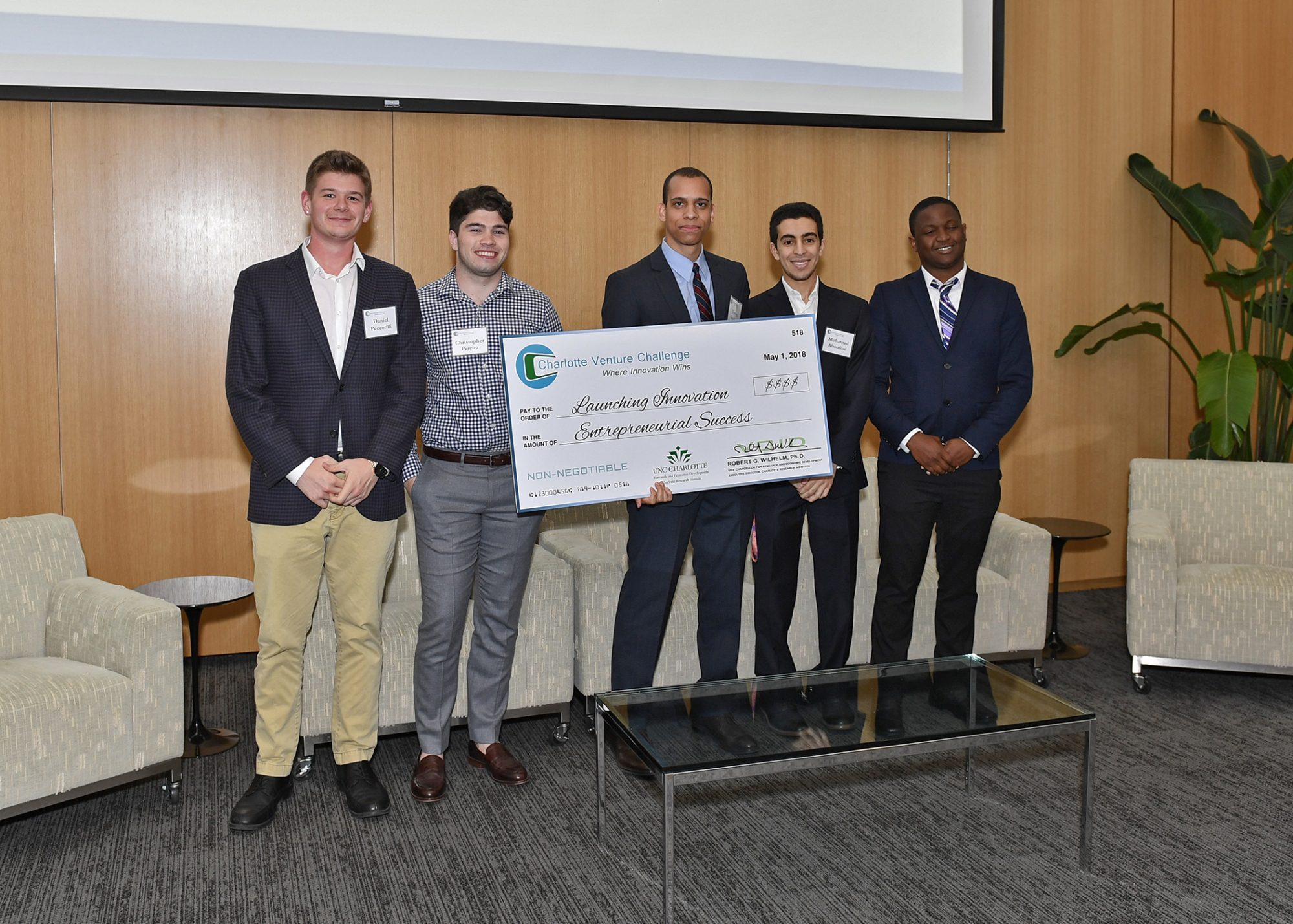 Daniel Peccerilli and Christopher Pereira
Mohamad Aboufoul and Mohamed Salad
Treven Stoddard
The judging panel consisted of three active and influential members in the Charlotte entrepreneurial community; Greg Brown, Owner & President of Cardinal Finance and Administrator of Charlotte Angel Fund, Lori Collins, Strategic Advisor, Collins Climate Consulting and Member of Charlotte Angel Fund, and Khalia Braswell, CEO of INTech Foundation, a UNC Charlotte graduate and participant in Ventureprise programs including 49er Foundry and CVC.
After each team was scored on their innovation's measurable impact, opportunity, competitive advantage and overall presentation, UNC Charlotte junior Treven Stoddard, Genubot, was announced as the winner and presented with the $1,000 J. Chris Murphy Award. Guap, LLC and Tijarah were each awarded $500 as finalists.
The next program segment, University Research and Innovation panel, was dedicated to feature these university teams that had completed both the Ventureprise Launch and national I-Corps customer discovery programs. "Each of the panelists had taken significant effort in the form of over 100 customer discovery interviews to move their innovations from lab to market," commented panel moderator, Ventureprise Associate Director, Devin Collins. The University Research and Innovation Panel: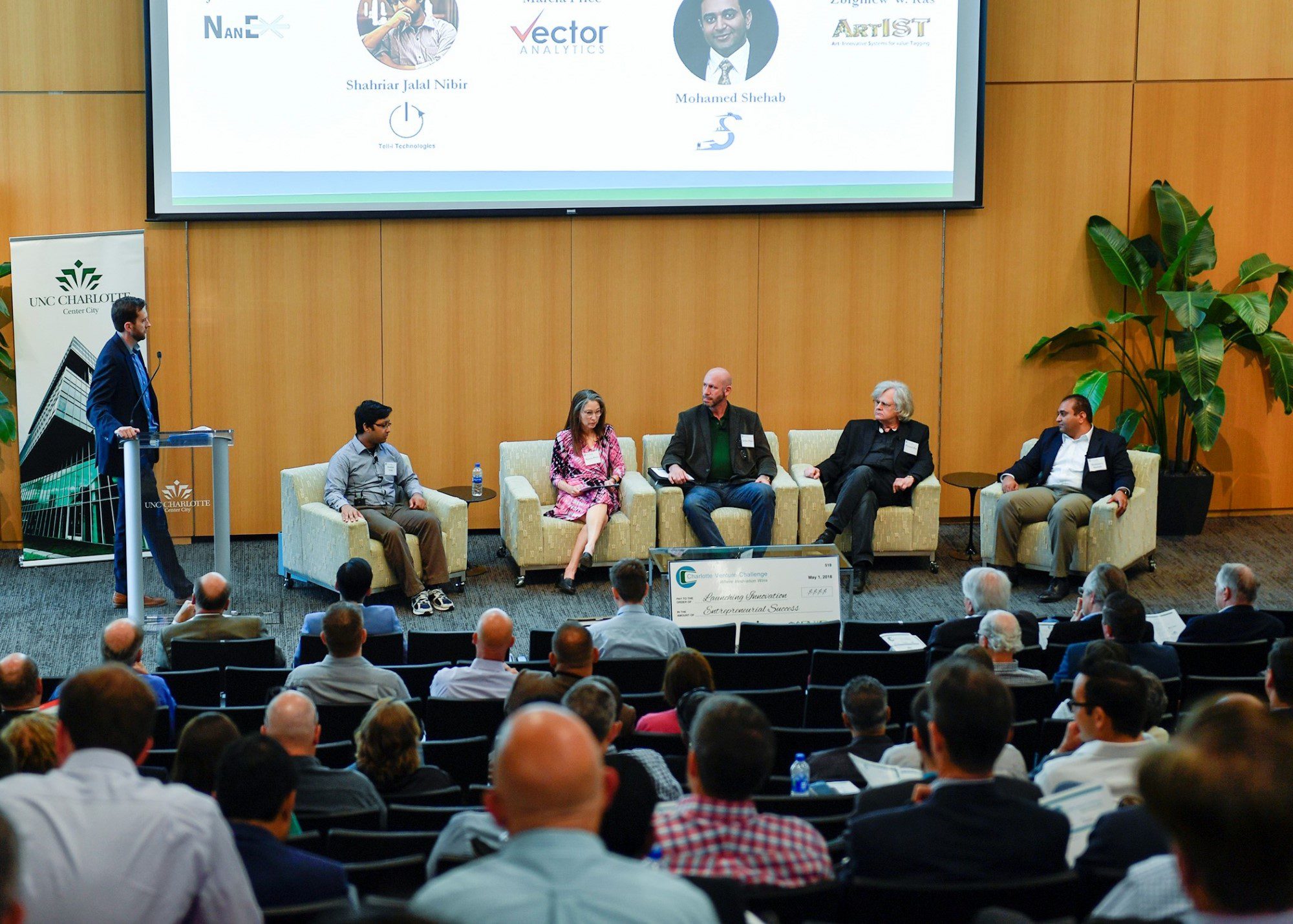 NanEx
Dr. Jordan Poler, College of Liberal Arts and Sciences
Vector Analytics
Marcia Price, Graduate Student, College of Computing and Informatics
Telli-Technologies
Shahriar Jalal Nibir, Ph.D. Student, College of Engineering
SmarTrek
Dr. Mohamed Shehab, College of Computing and Informatics
ResArt
Dr. Zbigniew W. Ras, College of Computing and Informatics
Rounding out the 2018 finalists was the Community Entrepreneurship panel. Each of these companies completed the Ventureprise Launch NC IDEA customer discovery program and were selected by their innovation, milestones, market strategy and investment needs. Since its 2017 inception, the Ventureprise Launch NC IDEA program has 31 teams participate, with 26 still active and raising over $3.2 million after program completion. The five panelists shared their customer discovery experiences in a discussion moderated by Paul Wetenhall, Ventureprise Executive Director. "Company founders agreed that it was difficult to listen to customers when they really wanted to talk about their products," said Wetenhall, "but that their greatest insights came from hearing about their customers' pains." The five companies chosen for the Community Entrepreneurship panel: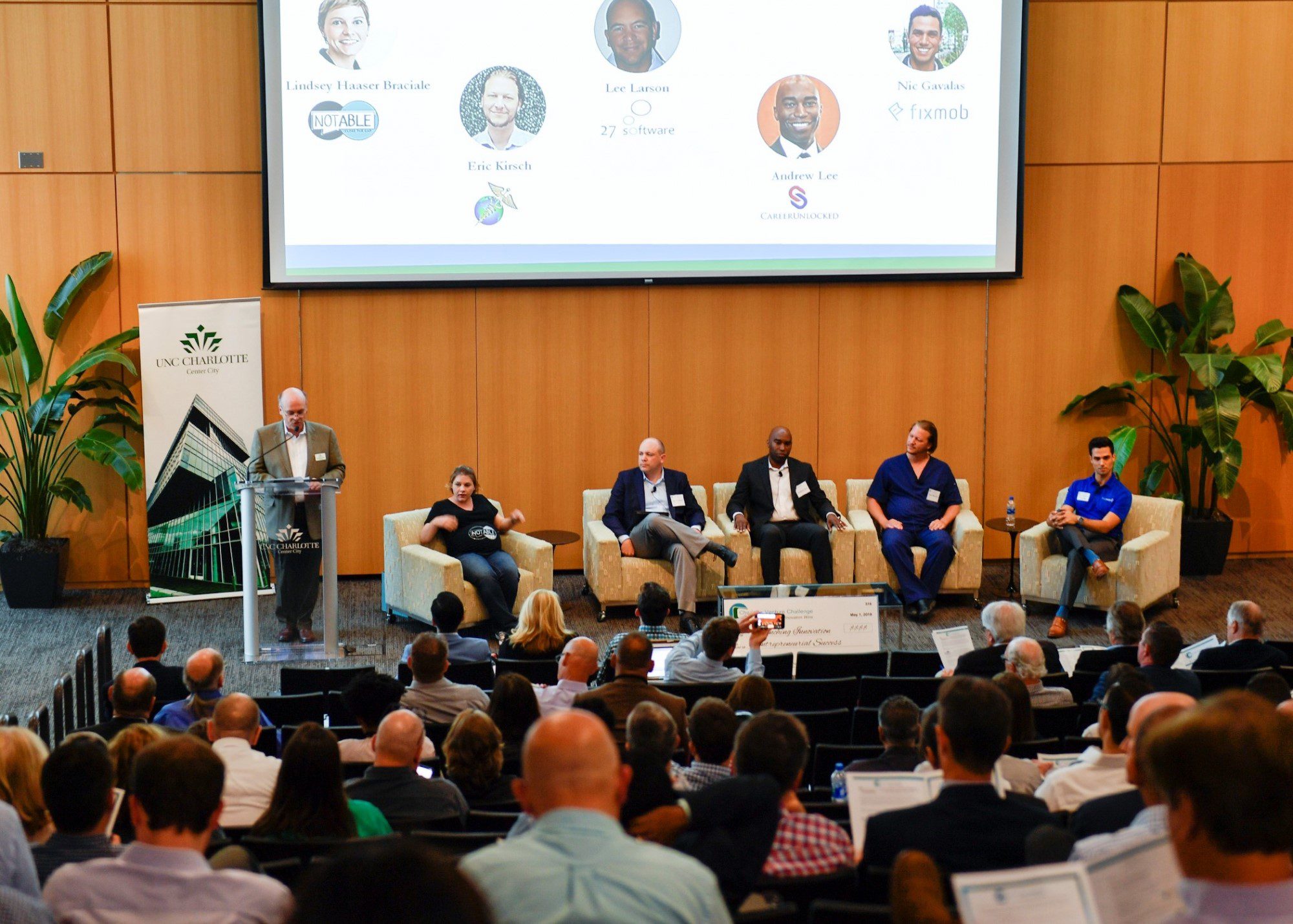 CareerUnlocked, Inc.
Andrew Lee and Saurabh Sarathe
Med Portal, LLC.
Eric Kirsch, Christ Chartrand, Todd Serulneck, Eric Medlock and Jim McGuire
Notable
Lindsey Haaser Braciale, Tim Newman
27 Software
Lee Larson, Nelson Clark, Chris Chartrand, Graham Kerswell, Paul Mitnick and
Doug McConoughey
FixMob, Inc.
Nic Gavalas, Mark Vande Guchte, Russell Eldridge
Additional teams that participated in the Ventureprise Launch program were selected to showcase at the event based on their innovation and milestones. The additional showcasing teams:
Queen City Farms
Julian Walker
Thoughtpost
Chris Dix
Gig Connected
Keith Clithero
Video Collaboratory
Dr. Sybil Huskey, Dr. Vikash Singh, Dr. Celine Latulipe, Dr. David Wilson, College of Computing and Informatics
The May 1 event featured Thom Ruhe, President and CEO of NC IDEA FOUNDATION, as keynote speaker, with his address focusing on the plan for NC IDEA to develop a continuum of entrepreneurial support to early stage ventures. NC IDEA will work with partners around the state, including Venturprise, to experiment with programs to see what works for each area. Thom led a panel discussion with three former NC IDEA Seed Grant winners: Lisa Ganderson, The Wed Clique, Ivan Howitt, InfoSense, Inc., and Rob Cummings, Deal Cloud, Inc., that highlighted their experiences in the Charlotte entrepreneurial scene including funding, resources and lessons learned.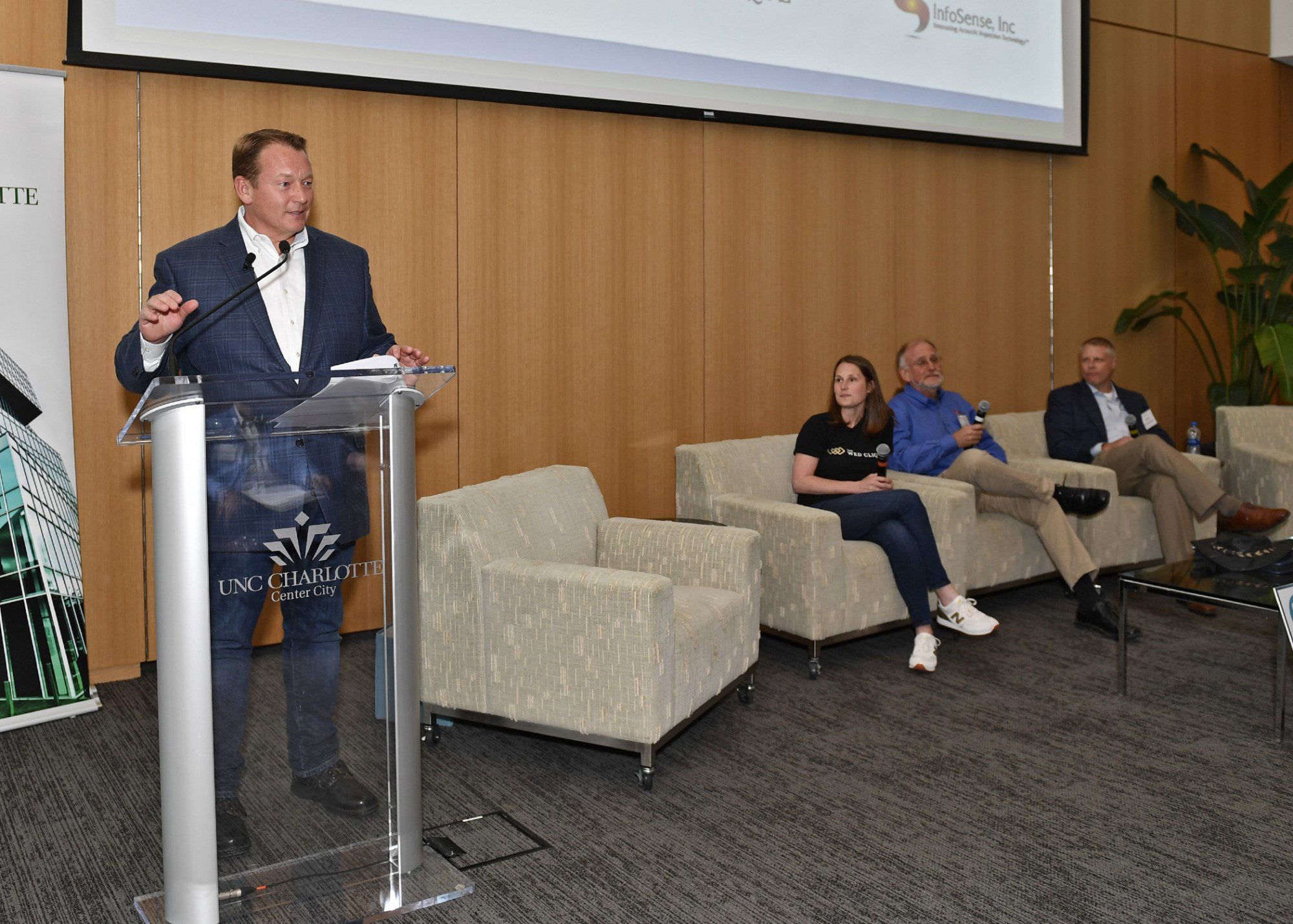 Each of the University Research and Innovation teams and Community Entrepreneurship companies were awarded $2000 to continue their customer discovery efforts. "The awardees have all demonstrated early product market fit and the funds are to further explore business models," Collins stated as he brought all the companies to the stage.
Notable (Lindsey Haaser Braciale) was voted the People's Choice Innovator winner by Charlotte Venture Challenge attendees that visited with the 17 showcasing companies during the receptions following the program.
Finalists:
Read more about our finalists here