CVC 2019
2019's Charlotte Venture Challenge
Spotlights UNC Charlotte Research, Campus Entrepreneurship, Charlotte Startups and introduces the NSF I-Corps 'Century Club'
At the 18th Annual Charlotte Venture Challenge (CVC), Ventureprise highlighted campus research, university entrepreneurship and community startups. This year, Ventureprise celebrated their 100th NSF I-Corps team participant milestone and during the event, over 25 university and community teams showcased their businesses, presented their innovations and participated in panels. CVC, sponsored by UNC Charlotte's Research and Economic Development, UNC Charlotte's Charlotte Research Institute, National Science Foundation Innovation Corps, NC IDEA FOUNDATION, North Carolina Biotechnology Center, and SBTDC, kicked off with the UNC Charlotte Student Pitch Competition.
Student Pitch:
Eight student teams, selected at the campus Idea Pitch in March, competed in two categories, University Change Makers and Business. Each team had three minutes to present their idea and then met with the judges in the 49er Foundry, UNC Charlotte's Student Business Incubator, where they had a showcase table and one-on-one Q&A sessions. The University Change Makers pitch judges were Aru Anavekar from Botsplash, Miguel Avila from Venture for America, and Michael Moore from SBTDC. The Business pitch judges were Garrett Tichy from Hygge, Sam Smith from Vishion and Justin Webb from UNC Charlotte's Belk College of Business. The students were judged on measurable impact, opportunity, market competition and presentation.
The students pitched innovative ideas ranging from a fitness application to video game development.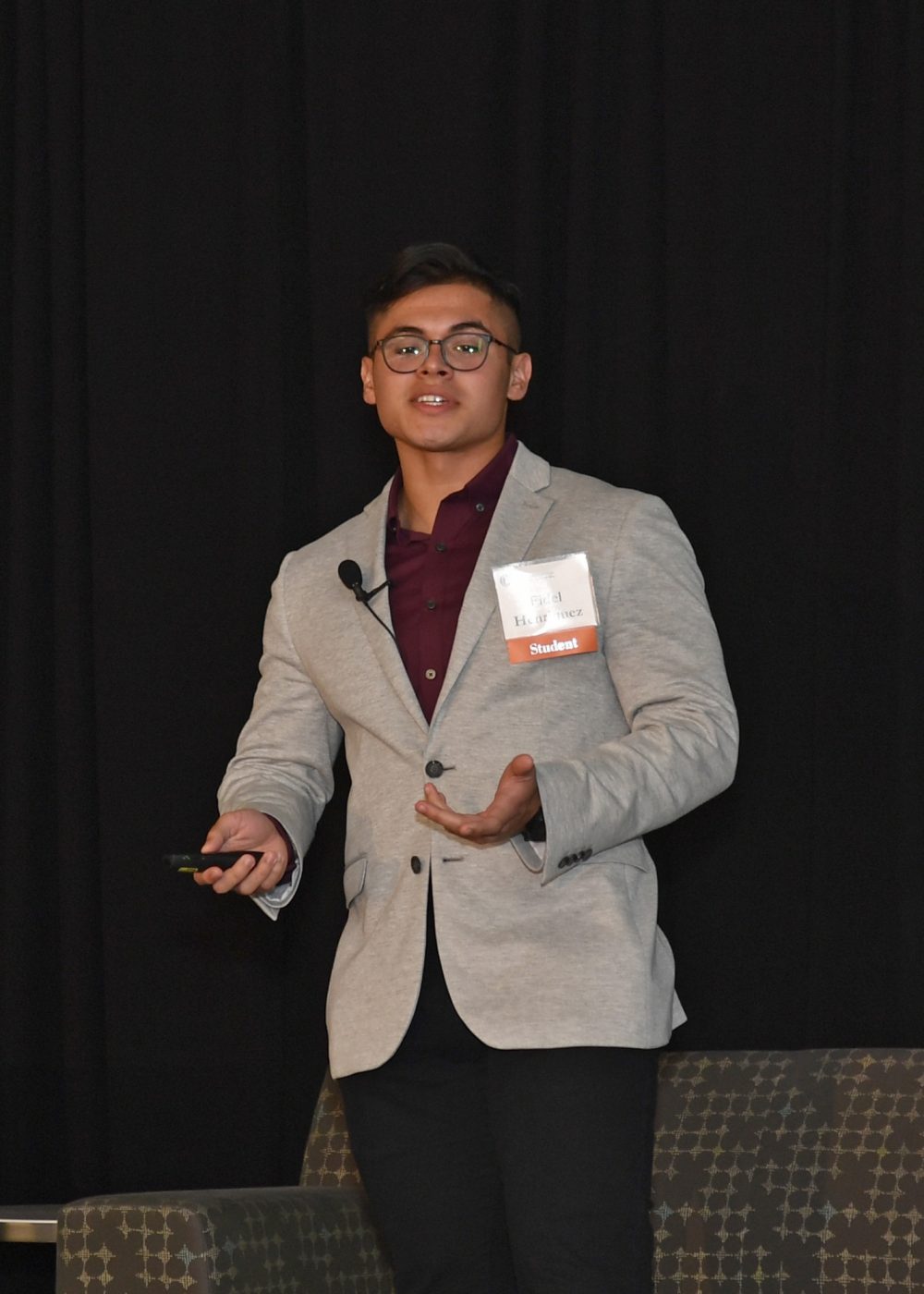 "Entrepreneurship isn't for everyone, but it gives you the opportunity to get away from what is normal. Entrepreneurs do something that is out of the ordinary. Most people go through school doing what they're told, others do the complete opposite and do something that is meaningful to them. That's what entrepreneurship gives you the opportunity to do," says first place winner Fidel Henriquez, a computer science major at UNC Charlotte.
The Student Pitch finalists were given a month to prepare for Charlotte Venture Challenge. During this time, they attended entrepreneurial workshops that helped each team define their problem-solution-fit and pitch to a large audience. "For someone like me who is a computer science major, this is not something that we do. With Ventureprise, you have to give a lot of presentations and let your ideas be known. I can definitely say that Idea Pitch has made me more open to talking about my ideas with anyone," says second place winner Martin Gutierrez, a computer science major at UNC Charlotte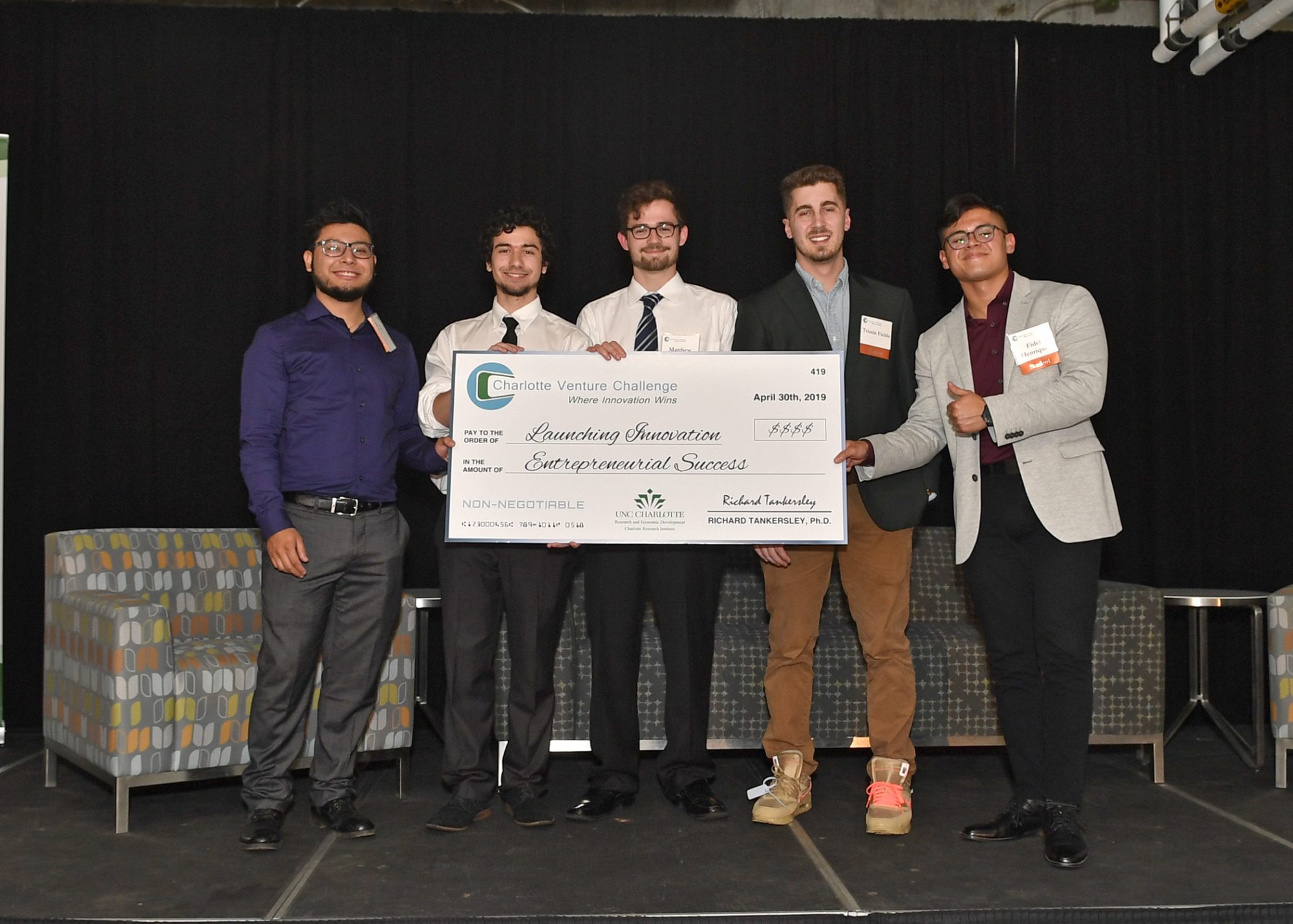 CVC awarded a total of $3,000 to the winners. In the business category, Fidel Henriquez took first place and $1000 to fund Heben, a livestream fitness application. Tristin Fields placed second to receive $500 in funding for Loose Lace, an application that centralizes the social and marketing aspects of sneaker culture. In the University Change Makers category, Anthony DeCenzo and Matthew Krawic won first place and $1000 to fund Niner Radar, a website that provides traffic data in real time. Martin Gutierrez took home second place and $500 in funding for enterTiNment, a new hybrid genre of gaming in a project S.T.I.N.G operation.
The other contestants were Haley Currence (Replicator), Hunter Stanley (Tiquity Tickets), Hunter Heavener and Cole Nastasi (Mello) and Jahdiel Couchman, Stephanie Lam, Charlotte Barrett and Vishal Naik (Anticipate).
Ventureprise Launch 2.0:
Following the Student Pitch Competition, the Ventureprise Launch 2.0 Awardees participated in a panel moderated by NC IDEA Senior Director John Austin. Ventureprise Launch 2.0 was developed to provide program alumni the opportunity to participate in a summer labs program focused on business model development. The participants of the summer labs program will receive a $2,000 award, as well as mentorship and programming to get them to the next stage of their business.
These Ventureprise Launch 2.0 participants will be focusing on pilot studies, customer acquisition, and marketing this summer. "I knew the Ventureprise Launch NC IDEA program would introduce me to other entrepreneurs and people who would help me grow my business. However, it also provided grant opportunities and an invitation to Charlotte Venture Challenge which built my confidence to get me pitch ready," says Jon Corkey, Ventureprise 2.0 summer participant and founder of Amissa.
The following companies participating in the Ventureprise Launch 2.0 summer program are Desmond Wiggan Jr. (BatteryXchange), Keith Clithero (Gig Connected), DeAndrea Newman Salvador and Kate Friedheim (JouleScout), Jon Corkey (Amissa), Meesha Kaushal and Michael Walter (Next Level Stem) and Katie Hotze (Shopii).
Watch the panel here.
NSF I-Corps and The Future of UNC Charlotte Campus Entrepreneurship:
The Spring 2019 semester brought 11 university teams through the Ventureprise Launch NSF I-Corps program, marking 100 teams that have completed the customer discovery program. The final panel of the night highlighted the NSF I-Corps program and campus entrepreneurship and was moderated by Ventureprise Interim Executive Director Devin Collins. Two Ph.D. students from the Ventureprise Launch NSF I-Corps program, Margaret Kocherga with Light and Charge Solutions and Baskar Mitra with PiControl, presented their lessons learned while participating in the program.
"When I applied to the Ventureprise program I initially hoped to learn how to pitch my idea in a way that makes sense. But when I came in I heard about this customer feedback platform, which I feel was a great interactive point. You get to talk to people and understand your drawbacks and advantages. I was definitely not expecting this but it was an added bonus," says I-Corps alumni and panelist Bhaskar Mitra, who is seeking his doctoral degree in electrical and computing engineering. See Bhaskar's presentation here.
"What surprised me the most about my research was the overall will of companies to communicate with me. I thought that would be the hardest part, trying to get these big industrial companies to talk to me. After completing 70 interviews, I now have potential business partners with these companies" says I-Corps alumni and panelist Margaret Kocherga, who is seeking her doctoral degree in the Nanoscale Science Ph.D. Program at UNC Charlotte. See Margaret's presentation here.
After the presentations, Devin Collins was joined onstage by three UNC Charlotte professors, Dr. David T. Young (The William States Lee College of Engineering), Dr. Jennifer Warner (College of Liberal Arts & Sciences and LEADS program) and Dr. James Conrad (The William States Lee College of Engineering), who discussed the I-Corps impact on campus research and student entrepreneurship.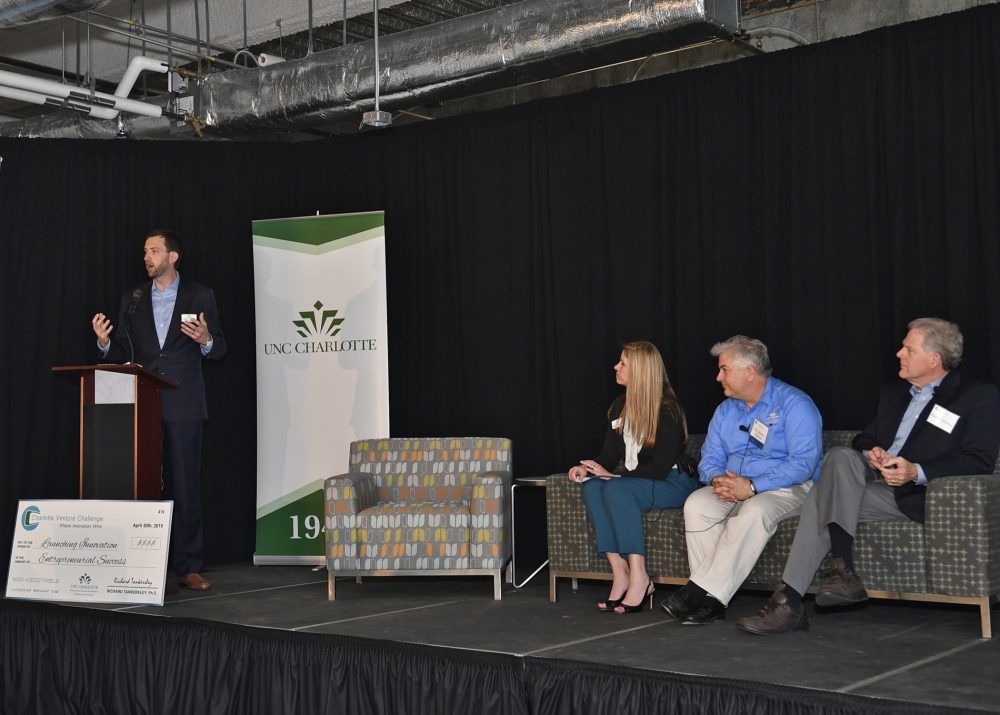 The Spring 2019 NSF I-Corps cohort not only brought in the 100th University participating team, but was also the setting to a pilot classroom, with the LEADS program bringing in 12 students to join the I-Corps teams. "The Ventureprise Launch and LEADS collaboration has set the tone campus-wide and was a powerful way to expose these students to the entrepreneurial process. Our students are good at identifying problems in the community and world they will be entering but many struggle with the vision of an entrepreneur. They may not see themselves as filling the entrepreneurial role, but it is critical that they have these experiences and opportunities where they are actively engaged in solving problems and then revisit that definition of an entrepreneur and see themselves in that role." commented Dr.Warner. While discussing his experiences with the I-Corps program, Dr. Conrad added that he has found time and time again that his engineering students come to him at the end of the program and say how valuable it is "to be able to delve into a problem and find out what people really want or what they are willing to pay for a solution."
Dr. Young, when speaking about the EPIC Innovators program and working with university partners, added, "When speaking with these companies, they are looking for students who are not scared of change and that are open to adapting to the world that is changing around them, because it is happening very quickly. So any chance a student has to experience this in [these entrepreneurial programs], this development, this idea, this innovation, it will assist them greatly as they talk to these companies."
For the full panel discussion, click here.
Dr. Richard A. Tankersley, Vice Chancellor for Research and Economic Development and Executive Director of the Charlotte Research Institute, gave our closing remarks, previewed goals for campus-wide entrepreneurship and highlighted the Ventureprise Launch "Century Club". See his full remarks here.
The following university and community businesses showcased at reception.
University
Smart Girls HQ – Abi Olukeye
Genubot – Treven Stoddard
Aqua DrioD – Dr. Pu Wang
Tell-i Technologies – Clint Halstead
MABE – Chengde Wu and Kyoung-Hee Kim
Video Collaboratory – Sybil Huskey and David Wilson
Community
Thoughtpost – Chris Dix
Room to Focus, Inc – Lorraine Russell
Beacon Health Connect – Eric Kirsch
Snugwicks – Cathy Ulicny and Megan Byrd
Coresnatcher – Jackie Moss
Shandoka – Ernest Eich
27 Software – Doug McConoughey, Lee Larson, Graham Kerswell and Nelson Clark
For more information about our participants click here.
CVC History
The competition has a history of producing and showcasing some of the Southeast's most successful early-stage companies. In the last three years, over 300 start-up companies entered the competition for the opportunity to present to potential investors, first customers, and the chance to win over $150,000 in cash prizes. During the final rounds of competition, the finalists present to Angel and Venture Capital Investors and large potential customers (Fortune 500 Corps).
Contact:

Devin Collins, Ventureprise