Ventureprise Launch Student Participant Accepted Into Elite Chain Reactions Innovations Program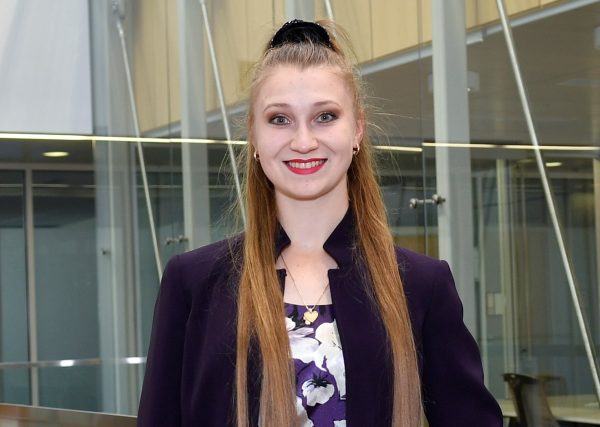 Author: Laura Smailes, Ventureprise Assistant Director
As Margaret Kocherga, Ph.D. Nanoscale Science Student and founder of Light and Charge Solutions, pops up virtually on my screen for our scheduled update, I start off the conversation by saying, "Congratulations!" And then a bit of laughter, because she has achieved so much in the past month since I have seen her, she doesn't know what I am referring to at this moment. Margaret co-founded Light and Charge Solutions with her mentor, Dr. Tom Schmedake. They have worked the past year on making customized materials for the manufacturers of OLED televisions, flexible displays, and wearable electronics, so they can save 30% on their production cost. And her latest accomplishment is quite amazing. It was announced this week she was accepted into Chain Reaction Innovations (CRI), the elite entrepreneurship program at the U.S. Department of Energy's (DOE's) Argonne National Laboratory as part of the program's fourth cohort. She will join five other innovators for a two year fellowship program, with the opportunity to collaborate with a host scientist at Argonne National Laboratory and work her technology.
I first met Margaret when she participated in the Ventureprise Launch NSF I-Corps customer discovery program in Spring 2019, and she will be quick to tell you that this is where it all began for her. "Everything that has happened since the Ventureprise Launch program has relied heavily on customer discovery. I always get asked, How big is the problem? Have you spoken to potential customers," states Kocherga. "Margaret was working on a material technology that required talking with a relatively small group of industry experts that are not easy to get in front. We know that Margaret is not one to sit idle and we funded her to travel to the West Coast to attend tradeshows and meet with potential customers to learn what problems her technology could solve," said Devin Collins, the Principle Investigator on the NSF I-Corps award.
When Margaret began the regional Ventureprise Launch NSF I-Corps program, she was deep into her OLED research, but was questioning herself. "As a graduate student, I knew I was working on something pretty narrow and kept asking myself, 'Does anybody really care about this?' I wanted to know if what I was working even mattered to anybody," comments Kocherga. Going through the six-week program offered by Ventureprise, she was exposed to industry experts and sought out interviews to get the stories from those directly in the industry. What problems did they see? How prevalent were these problems? After 30+ interviews she began to see patterns, "I was getting hints of what could be a direction for me, and possibly a company. I was able to take the feedback, whether good or bad, and look at how it affected my research and where I should focus. The fact that I am open to all feedback helped me in this process. I have been told 'no' several times."
With the regional program completed and a problem identified, Margaret worked over the summer and fall of 2019 toward commercialization and funding opportunities. She received a $10,000 Microgrant from NC IDEA to set up a lab on UNC Charlotte's campus, where the team will send out samples to potential customers identified through her initial interviews. Margaret and Light and Charge Solutions was then accepted into the National Science Foundation's National I-Corps Program, which included a $50,000 grant for additional customer discovery. Through this round of over 100 interviews, the Light and Charge Solutions team was able to identify specific customers for an industry gap that they validated. "We found customers that were willing to give an unknown startup a chance. We pivoted our target customer from working with distributors and began to focus on a B to B model," Kocherga explains. As Light and Charge Solutions was going through the National I-Corps program, Margaret began to think about her next steps, with graduation coming up this August. Through her expanding network, she learned about a few national lab fellowship programs that assisted new startups. For the past six months, she has been participating in an extensive application process, one that ended on a good note.
Margaret is finally able to take a breath, but it is a short one because a lot of work lies ahead. Out of 156 applications, Margaret was one of six innovators selected for Argonne's Chain Reaction Innovation Program. This summer she will begin traveling to Chicago for at least a few weeks each month, while maintaining her lab here, on UNC Charlotte's campus. "This fellowship will expose me to industry-specific mentorship, facilities that I would never have access to and support in a highly competitive industry," comments Kocherga. "This program provides the stability needed so I am able to concentrate on launching and scaling technology. I feel like I can be much more comfortable going forward."
What is Margaret's secret to her success thus far? "Don't be scared to try new things. Look for the feedback and don't take things too personally, it's not you. Things don't happen quickly, but continue to follow your passion." And just to keep you up to date on all those other accomplishments; Margaret placed first in the Innovate Carolinas Student Competition, Graduate Division, is in the finals for EPIC Innovators Competition at UNC Charlotte and 53 Ideas Pitch Competition and will be participating this summer in Ventureprise Launch 2.0 Summer Accelerator.
More details on Argonne's Press Release