CEI Awards Over $10,000 to Students, Faculty and Community Founders for Idea Launch, Commercialization and pilots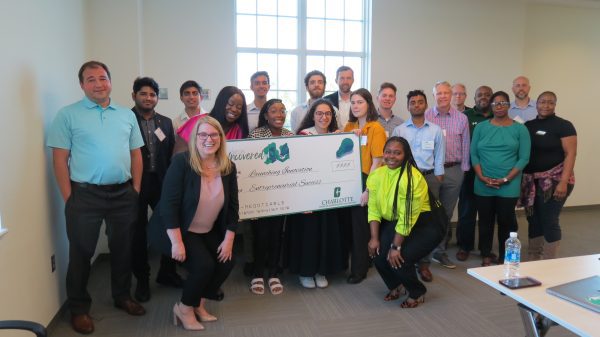 With close to 200 attendees, this year's Charlotte Venture Challenge (CVC) successfully brought together UNC Charlotte students, faculty and the Charlotte community. The Center for Entrepreneurship and Innovation's networking and showcasing event took place in the PORTAL building on April 18th, highlighting student ideas, University commercialization and Charlotte startups. "Founded in 2001, the annual CVC competition is my favorite event of the year because we get to showcase our new innovators while also bringing alumni of the competition back to campus. It is a wonderful experience being able to introduce our new friends to our old friends and watching as they support one another" said Devin Collins, co-director of the Center for Entrepreneurship and Innovation (CEI).
Student Alley
Student Alley, where the 49er Impact Finalists showcased their social and business ideas was the central hub where attendees learned more about the impactful ideas of UNC Charlotte students, and were able to vote for their favorite idea. This showcase was the finale of a month-long process for students, as they competed in the 49er Impact Pitch Competition. Throughout March and much of April, students attended workshops and worked with CEI staff to submit a three-minute video pitch. With close to 30 submissions, judges selected the top 12 ideas to advance to the semi-final round.
The semi-final round included Mentor Madness, which brought together 12 Charlotte leaders in the startup community with the semi-finalists. Each student had seven minutes with five mentors, and then 30 minutes to update their pitch. The semi-final round concluded with the live pitch and judges selecting the top six to advance to finals. With six colleges represented in the competition, CEI co-director Justin Webb commented, "CVC truly highlights the interdisciplinary work that goes into entrepreneurship and is fully aligned with the intent of the Center for Entrepreneurship and Innovation."
Grand Prize: $3,500: Alberta Asare Yeboah, GroSecure (College of Liberal Arts & Sciences)
2nd Place: $1,500: Ryan Shah, Srinath Dittakavi, Arjun Elangovan and Akhil Motiramani, BridgeBowl (Belk College of Business and College of Computing and Informatics)
3rd Place: $1,000: Kaylan Joseph, GlamourBae (College of Liberal Arts & Sciences)
Crowd Favorite: $500: Sarah Eddin and Yousef Eddin, Bad Apples (William States Lee College of Engineering and College of Computing and Informatics)
As a steward to the entire university, CEI serves all students and faculty through our undergraduate and graduate entrepreneurship certificates, incubator space, mentoring, and other programming, infrastructure, and events." Finalist Sarah Eddin, William States Lee College of Engineering student and founder of Bad Apples, highlighted her experience in the competition, "Thanks to the 49er impact pitch competition, I have had the wonderful opportunity to present my ideas alongside some of the most creative students here at Charlotte, as well as receive mentorship from inspiring local entrepreneurs and professors. As an engineer, this competition has taught me a lot about business, marketing, and entrepreneurship which I would have never learned otherwise. This is a fantastic competition for anyone who has an idea for a product, service, or application to learn and grow amongst their peers." The finals took place at the kickoff of Charlotte Venture Challenge, with investor, author and founder, Dr. Shante Williams, 49er Foundry and Charlotte alumus and Cloverhound founder Chad Stachowicz and former CVC winner, investor and Falfurrias CTO Rob Cummings judging the competition.
*As Assistant Director Laura Smailes and Carrie Bovill, Entrepreneurial Program Specialist, highlighted the competition and announced the winners, it was added that through the feedback of the mentors and judges, each of the Semi-Finalists out of the top 3 would be awarded $500 to continue work on their ideas. Read more about Mentor Madness and the 12 Semi-Finalists here.
University Commercialization
Attendees were also introduced to six University teams and five Charlotte startups, all alumni of CEI's National Science Foundation I-Corps Charlotte Launch program. These University teams are focused on commercializing their research, with many going on to complete the National I-Corps Program and receiving SBIR/STTR funding. Two University teams were selected to receive a $1,750 stipend to continue their work on identifying customers, partners and revenue channels and will be participating in Charlotte Launch 2.0 this summer.
2.0 Awardee: Chimeras, Chris Neff and Dr. Shannon Reid (The William States Lee College of Engineering and College of Liberal Arts & Sciences)
2.0 Awardee: urbanCORE Explore, Dr. Byron White (urbanCORE)
Graduate student Chris Neff described the Charlotte Launch program benefits as, "Gaining invaluable insights through intensive customer discovery. Speaking with experts in the security industry, we not only learned how and why our technology was needed, but also where we as a company would fit into the existing landscape. It has allowed us to refocus our efforts on the tasks and market segments that matter most, and has prepared us for the next steps in becoming a successful company."
Learn more about University Showcase Teams here.
Charlotte Startups
With over 150 local startups participating in CEI's customer discovery programming since 2015, CEI has developed Charlotte Launch 2.0 for program alumni to continue their business model canvas work. With a focus to fast track defined milestones, the 2.0 program provides resources and mentorship to explore channels, revenue streams, key resources, key activities & partnerships, cost structures and pilot studies. Five of the companies participating in 2.0 were selected to showcase at CVC and the top were awarded a $1,750 award to fund their next milestones.
In discussing the program, award winner Vontenea Stokes stated, "I've participated in several business accelerator and development programs, but Charlotte Launch was by far the most valuable. The weekly teaching sessions were very helpful, and I gained access to mentors that have taken a true interest in the success of my business. The Center for Entrepreneurship and Innovation is great for the local start up community and I'm happy to be a part of the network."
Read more about Charlotte Launch 2.0 and the showcase participants here.