49er Impact: Road to Charlotte Venture Challenge
49ER IMPACT ROAD TO CVC
$1000s in cash and prizes awarded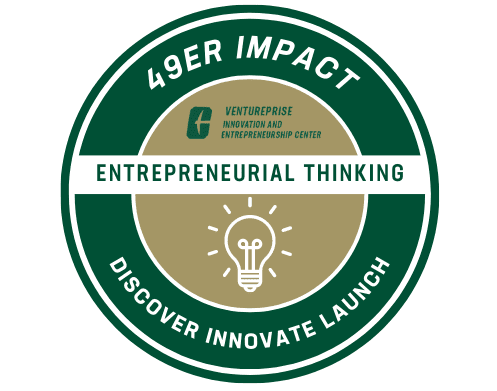 The 49er Impact: Road to Charlotte Venture Challenge (CVC) is a credentialing program to help students develop entrepreneurial thinking skills and make an impact with their ideas through integrative and iterative learning.
This program consisted of networking and mentoring opportunities. Students also had access to panels, interviews with community and campus leaders, asynchronous learning modules, and in-person workshops – all focusing on customer discovery, design thinking, storytelling, innovation, and collaboration. The skills learned through this program are instrumental in assisting students in making an impact and can be transferable to any career choice.
This program took place all Spring 2022 semester, providing cash and prizes along the way, as students complete the milestones. Upon completion, students were awarded the 49er Impact Credential, recognizing skills obtained during this program.
---
Spring 2022 Program Details
Students had until April 11th to complete a total of 3 milestones.
There were three milestones to complete, with several options to fit everyone's schedule. Students decided what they were able to attend and complete. If students met the suggested time frame for each milestone, their names were submitted in a drawing for cash prizes. Three $300 cash prizes were awarded throughout the program.
For the 49er Impact, there will be an overall winner for the grand prize, $3,500. This can be used for a semester's tuition, work on your project, etc. We will also name up to six finalists for the Charlotte Venture Challenge who will compete for additional cash and prizes. Overall, over $10,000 in cash and prizes will be awarded this semester.
Milestones:
Launching
Innovative Learning: Customer Discovery
Making Your Impact
---
49ER IMPACT ROAD TO CVC Winners
Grand Prize Winner ($3,500): Operation Education
Diana Nieto, College of Liberal Arts & Sciences, Senior
Bryan Lopez Villanueva, Belk College of Business, Sophomore
Operation Education is focused on serving as a central hub for all resources needed for First-Generation LatinX/Hispanic students and their parents. We hope to bridge the gap between higher education and these students.
2nd Place Grand Prize Winner ($1000): Break the Stigma of Food Insecurity
Jayna Butler, College of Health and Human Services, Junior
Break the Stigma of Food Insecurity: There is an extreme disconnect between the utilization of food security resources and needs on our UNC Charlotte campus. Let's do something about it.
Graduate Student Winner ($500): You've Got This
Naomi Nikita Thammadi, School of Data Science
You've Got This: An effort to introduce career and job search resources specific to the field of study that will go hand-in-hand with the resources already available at the University Career Center and Center for Graduate Life. This gives students a complete package of general career advice as well as industry specific career advice. This idea hopes to build confidence of graduate students entering the job market by providing offline workshops that can be accessed anytime anywhere giving them the freedom to apply skills learned at their own pace, according to their schedules.
Undergraduate Winner ($500): De-Stress
Nitika Bhatta, College of Liberal Arts & Sciences, Senior
De-Stress: An app to help manage daily stressors for young adults ages 18-24. This idea takes into account the different barriers and gaps that exist and prevent people from getting the right resources.
Crowd Favorite ($600): Fashion Sustainability
Imogen Anderson, Belk College of Business, Sophomore
Fashion Sustainability: There are many students at UNC Charlotte who know about the fast fashion industry and its negative impact on the environment, and they want to help solve this issue. However, they don't know how or where to start. I want to create a platform on campus that will provide the resources for students to help them start becoming more sustainable consumers.
J Chris Murphy Award ($500): Partitioned Lifting Platforms
Quinn Bero, Belk College of Business, Junior
Partitioned Lifting Platforms: Home gym equipment industry solutions today leave a gap when it comes to lifting platforms. There are many benefits to lifting platforms and the solutions out there are both expensive and consume a lot of space. Based on my customer discovery, many individuals are limited when it comes to home gyms because of limited space and expensive equipment solutions. My solution is a less expensive, partitioned lifting platform that can be assembled and disassembled into three pieces while maintaining product quality so that individuals can use a platform that meets their needs.
Pitch Only and Returning 49ers CVC Winners
Students could also enter the pitch competition without completing the credentialing program. Participants who had participated in previous Ventureprise programming were judged as a separate category.
Pitch Only Winner ($1000): The Gladiolus
Sasha Sembur, College of Liberal Arts & Sciences, Sophomore
The Gladiolus: The Gladiolus is an independent, non-partisan news company that will serve as a reliable news extension on Instagram. The platform will allow all Instagram users to access a plethora of credible articles on current events, upcoming elections, and other topics that they are interested in. Contrary to competing social media news sites, The Gladiolus focuses on presenting the hard facts and avoiding opinion. Without the pressure of checking sources and following popular topics, readers will be more informed on everything happening around them.
1st Place Returning 49er ($1000): Hot Route Analytics
Adonis Abdullah, School of Data Science
Hot Route Analytics: Hot Route Analytics is the home of predictive analytics for amateur sports. We are an online data analytics provider empowering amateur sports teams to be more competitive and increase their winning percentage. We are a group of data scientists and sports fans who have collected the deepest amateur sports database, tested predictive analytic tools and partnerships with over a dozen college and semi-pro teams, and bundled them within our online platform HomeTeam.
Pitch
2nd Place Returning 49er ($750): Girls Who Launch
Samra Kanwal, Belk College of Business, Junior
Allison File, William States Lee College of Engineering, Junior
Girls Who Launch is a multifaceted social organization empowering middle school girls with the confidence and entrepreneurial mindset to become future changemakers.
3rd Place Returning 49er ($500): Disability Cultural Center
Xuan Truong, College of Health and Human Services
Disability Cultural Center: There is a lack of disability community at UNC Charlotte. To fill this gap, other universities have created a centralized space just for disabled students called Disability Cultural Centers. These are centers on college campuses that provide an area of rest, community and learning for those with disabilities and those who want to learn more about their friends and peers with disabilities.